It's the media not you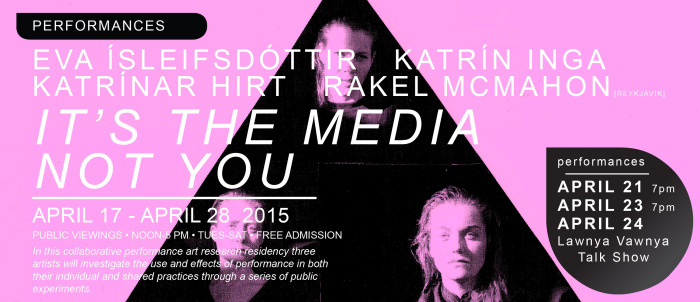 It's the media not you is a collaborative performance art research residency in which Icelandic artists Eva Ísleifsdóttir, Katrín I Jonsdottir Hjordisardottir, and Rakel McMahon collapse method and medium in Eastern Edge Gallery's main space. Through performance itself, the artists investigate the use and effects of performance in both their individual and shared practices in a series of public experiments.
APRIL 21, 7pm
Inspirational Moment
APRIL 23, 7pm
Crying Limmo
Peta Loves Pollock
The Piece Text About
APRIL 24, 7pm
Lawnya Vawnya Talk Show: An Exposition of Independent Art and Culture
$10 Cover, All Ages
About the artists:
Eva Ísleifsdóttir (b. 1982) lives in Reykjavik, Iceland. Studied at the Art Academy of Iceland from which she graduated with a BA in Fine Art. In 2010 she graduated with Masters in Sculpture from the Edinburgh College of Art. Eva throws together contemporary pop iconic imagery and symbols and lets the established meanings and values that they incorporate conflict within the actions or how they are portrait in her work. She stages situations with the use of sculptural elements. Recent exhibitions & projects are 2015 HURTS SO GOOD with N. Niederhauser at Snehta Athens, 2014 Half an Artist, federation of artist in Iceland SOLO. 2014 Co-creator and co-director of STAÐIR bi-annual exhibition and artist research residency in Westfjords in Iceland with Þ. Ólafsdóttir, 2014 Co-curating The Exhibition of lost artwork at the Culture house in Akranes. 2013 The Anti Festival. Kuopio Finland, 2013 Sequences Art festival. Reykjavik Iceland. Since 2013 Eva has been working as the collection manager for the Living Art Museum in Iceland as well as being on the curatorial board from 2013 – 2015.
Katrin I Jonsdottir Hjordisardottir (b. Iceland, 1982) lives in Reykjavik, Iceland. Katrin´s subjects often include the social and political landscape and ecology of the art environment in Iceland, which she funnels into her practice in unusual and personal ways, through various methods and mediums, such as writing, performance, drawing, sculpture making among other forms. Katrin is MFA grad in Fine Arts from School of Visual Arts in New York (2014) and she is a Fulbright Grantee (2012). Katrin has BA in art history and art theory from the University of Iceland (2012) and BFA in fine art from the Iceland Academy of the Arts (2008). Katrin was awarded the Dungal Art Fund award for in 2012 and received the Gudmunda Andresdottir scholarship in 2013. Katrin is co-founder of Contemporary.is, a web media about icelandic art today and is a current board member of Endemi, an art publication. Her solo show at The Living Art Museum in year 2013, The 6th Volume presents work and writings by individuals active within the practice and theory of visual art.
Rakel McMahon (b. 1983) lives and works in Reykjavík, Iceland. She graduated with a BA in Fine Art from the Art Academy of Iceland in 2008, holds a Diploma in Gender Studies from The University in Iceland and in 2014 she graduated with a M.Art.edu. from the Art Academy of Iceland, where her final theses focuses on performance art as a pedagogical method in art studies. Since 2013 McMahon has been a member of the board at the Living Art Museum in Iceland as well as Sequences Real Time Art Festival. Recent performances and exhibitions are; 2015, View of Motivation, Hverfisgallerí, Reykjavík. 2014, Red Direction, Týs Gallery, Reykjavík, The Days of the Child Prodigy Are Over, by Wunderkind Collective, THOKA Gallery, Reykjavík and View of Motivation, Nau Gallery, Stockholm. 2013, Dimanche Rouge, an experiment performance festival in Helsinki, Finland. McMahon is represented by Hverfisgalleri, Reykajvík, Iceland.