Kyle Whitehead – Circles of Confusion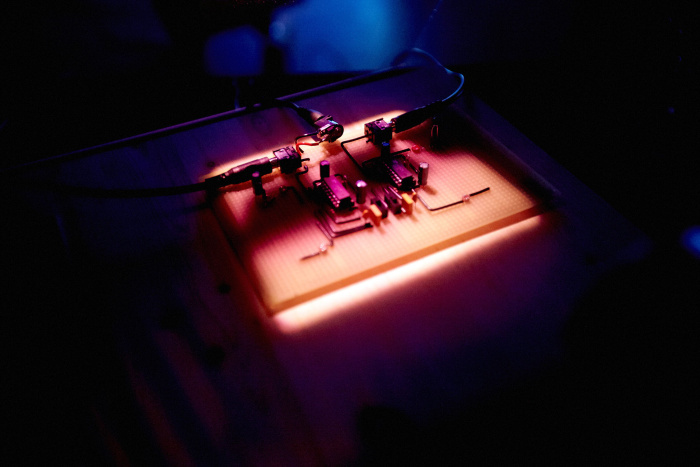 Circles of Confusion is a generative image and sound based expanded cinema installation and performative work composed of dual Super8 film-loop projections each coupled with a mirrored pair of optically controlled sine-wave oscillators. Built to function like a theremin, these scratch built oscillator circuits are controlled by light-dependent sensors that modulate audible pitch and volume. As film-loops are projected the sound is simultaneously generated in real-time by reflected light and these four optical theremins propagate a cacophony of sine-wave tones that are directly proportional to the intensity of the projected images – hand processed Super8 film-loops that are matched but not mirrored pairs.
Opening reception + Artist talk: April 27th at 7pm
About the artist:
Kyle Whitehead is a multidisciplinary artist working primarily with small format cinema, installation and alternative photographic processes. His work has been exhibited both nationally and internationally, his recent film works have been showcased at the Antimatter Film Festival's off-screen program (Victoria, BC), the Calgary International Film Festival, Detours Santorini Super 8 Film Festival (Greece), InCINEracion (Madrid, ES) and the 18th annual $100 Film Festival where he won the Best of Alberta award for his experimental 16mm film Maverick. Kyle received his BFA in Media Art and Digital Technologies from the Alberta College of Art and Design and currently resides in Calgary where works as the Production Coordinator at EMMEDIA and spends most of his time in the dark.