Kym Greeley / Scott Rogers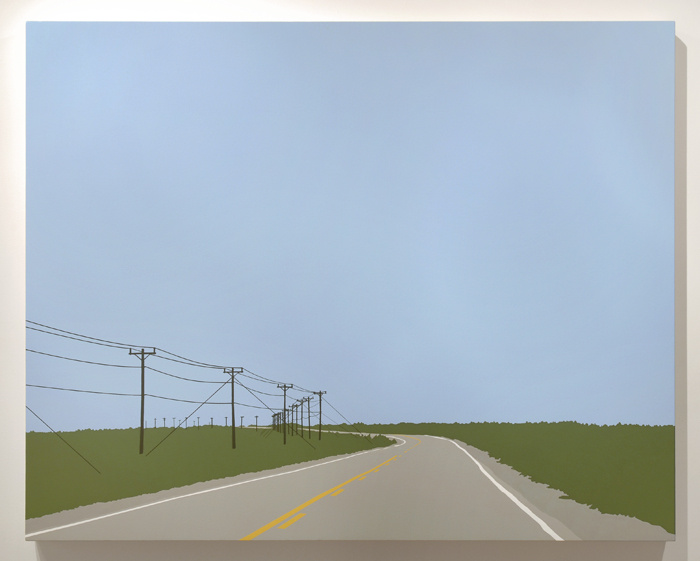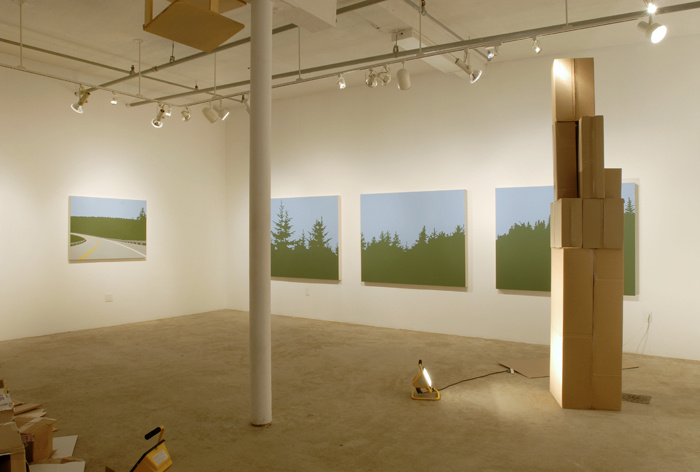 KYM GREELEY – TCH
SCOTT ROGERS – MINIATURE SEARS TOWERS
SEPT. 6 – OCT. 18
TCH is a new series of paintings which takes as its central theme an exploration of Newfoundland landscape. Greeley seeks to simplify this representation to create a more mediated interpretation, where the geography of Newfoundland can be appreciated in a more graphic form. These paintings do not romanticize the natural environment, but rather reveal a more transparent and direct observation of the landscape. The roads and highways, rather than being edited out, are included in the images, for it is from this vantage point that most of us experience the natural geography.
Read the exhibition essay by Gordon Laurin.
Miniature Sears Towers consists of three scale cardboard replicas of Bruce Graham's archetypal skyscraper in Chicago, Illinois. Each replica is constructed through a different method of production (from custom fabrication to hand construction) and uses various shipping networks for delivering the object/material to Eastern Edge Gallery. The exhibition is concluded when the cardboard towers are recycled and returned back into circulation as packaging.
Read the exhibition essay by Wojciech Olejnik.
About the artists:
Kym Greeley graduated from the Nova Scotia College of Art and Design in 1997, and attended the Cooper Union School For The Advancement of Art and Science in NYC in 1996. She lived in NYC from 1997-2003 showing in Germany, Canada and the US, until moving back to St. John's in 2003. She is now primarily painting and screenprinting and is exhibiting in both artist-run and commercial galleries in Canada, and has shown in Canada's MIX Magazine. Greeley is involved in the St. John's arts community, sitting on the Board of Directors at A1C Gallery. She is also showing this year at the Sir Wilfred Grenfell College Art Gallery, A1C Gallery, Christina Parker Gallery, and following a four month-long residency she will be exhibiting at The Rooms in February 2009.
Scott Rogers is a visual artist, writer and facilitator currently based in Calgary, Canada. His practice combines studio and academic research into site-specific, ephemeral, lo-fi and collaborative projects. He has shown his work in group and solo shows throughout Canada as well as internationally in Germany, the United States and Ireland. Upcoming solo and two-person exhibitions include Eyelevel Gallery (Halifax), Galerie Sans Nom (Moncton) and Stride Gallery (Calgary). Scott is artist in residence at Church Basement in Saskatoon for the month of July 2008 and will be participating in residencies in Iceland and the Yukon in 2009.