Out of the Water: Mapping Queer Histories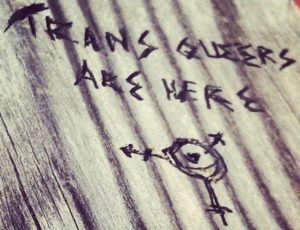 Mapping Queer Histories: Story Circle with Daze Jefferies
June 22nd, 2019, 12:00–2:00 PM
Eastern Edge Gallery
72 Harbour Drive
Wheelchair accessible space
Calling 2SLGBTQIA+ of all ages! Come share your stories with us.
It's commonplace in Newfoundland and Labrador to spin a yarn around the kitchen table. It's how people learn so much of their family history, local mythology, folklore, and skills. Sometimes this scene is less familiar to queer and trans folks. Our families don't always accept us; sometimes the versions of ourselves that are embraced at home aren't the same ones that flourish in our communities, around queer friends and allies.
For this event, we welcome queer, two spirit, trans, and gender-creative folk across generations to come and share their tales of growing up queer in NL. Did you leave home to find yourself, only to come back again? Did you bravely share your identity with friends and family? What about that queer punk show you went to that time? That protest, or picnic? Facilitated by celebrated local artist, poet, and trans historian Daze Jefferies, you will have the opportunity to have your story recorded (if you like) for contribution to an ongoing archive of queer tales that will be housed in the David Tuck Memorial Library, and included in a beautiful soundscape as part of the upcoming exhibition A Hole So Big It Became The Sky. Don't want to be recorded? That's ok! Come share anyway!
We encourage you to bring objects, memorabilia, and ephemera that remind you of that time when…
Photos, posters, flyers, Pride tees, zines, pamphlets, crafts, album art, buttons, poetry and postcards are all great! There will be maps and a collection of archival materials to help inspire, orient, and situate your stories.
This is a free event; coffee, tea, and snacks will be provided.
—-
Special thanks to PFLAG and ACNL for partnering with us on this project!
---
Mapping Queer Histories: Zine Making Workshop with Valarie Webber
June 22nd, 2019, 3:00-5:00 PM
Eastern Edge Gallery
72 Harbour Drive
Wheelchair accessible space
Zines, the medium of the people! Zines have long served important political, creative, and community functions: as a DIY alternative to mainstream publishing, as a platform to amplify marginalized voices, and as an irreverent form of rapid-fire-fuck-you to cultural production. For this workshop, local queer zine-ster Valerie Webber provides materials, tools, tips and tricks for zine conception, production, and distribution. From the simplest to the most robust formats, this crash course in zines will give you the tools to tell your story exactly the way you want to. Seeking trans, two spirit, queer, and gender creative tales from all ages. Seasoned zine-makers and newbies welcome.
We encourage you to bring flyers, posters, cards, drawings, poetry, and anything else paper-based that you might want to include or use as inspiration. A scanner will be present if you want to contribute your drawings or other ephemera to the compilation of a community zine cataloguing some of our local queer histories.
There will be a Queer Zine Fair at Eastern Edge on Sunday, July 21 from 1 – 4 pm! We'd love to see you there with your finished zines! More info to come.
This is a free event; paper, scissors, markers and drawing utensils, tape, and glue will be provided.
—-
Special thanks to PFLAG and ACNL for partnering with us on this project!