rOGUE Gallery Call for Submissions 2024/2025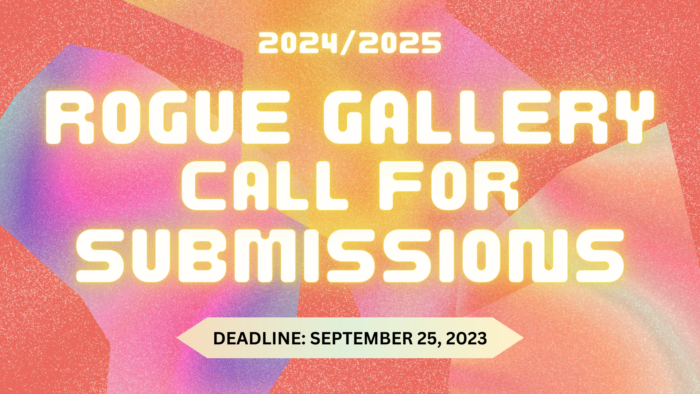 That time of year is quickly approaching! We are excited to announce the upcoming rOGUE Gallery Call for Submissions deadline: September 25, 2023.
This is an excellent opportunity for local, emerging artists to share an exciting new project or body of work with the community. We invite artists of all disciplines across Newfoundland and Labrador to submit a proposal for the chance to exhibit in our rOGUE Gallery space for up to 6 weeks.
Eastern Edge is accepting proposals for rOGUE Gallery exhibitions for 2024/2025.
We are dedicated to cultural diversity in our programming, and encourage applications from artists, art collectives, and curators of diverse communities and backgrounds. We strive to support the needs of our successful applicants, please do make us aware of any flexibility or supports you need that are not covered here.
The rOGUE Gallery is a 4 x 7 metre space within Eastern Edge dedicated to showcasing work by Eastern Edge members, with a special focus on local practices and works by artists with a connection to Newfoundland and Labrador, artists in the emerging stages of their career, and experimental art practices. We accept applications for exhibitions, performances, concerts, events, screenings, lectures, interventions, curatorial projects/group shows, and other forms of creative expression.
Deadline to submit: September 25, 2023, 11:59pm NDT (Newfoundland Daylight Time)
What We Provide:
Eastern Edge pays artist fees in accordance with the current CARFAC Fee Schedule under Category 1. Artists exhibiting in the rOGUE Gallery will be paid an artist fee of $440.
Exhibiting artists will be offered the opportunity to give an artist talk or workshop for an additional fee of $335.
We encourage selected artists to apply for additional project funding if necessary. If selected artists live outside of the St. John's Metro Area, we encourage them to apply for additional funding for travel costs. If required, the gallery will be pleased to assist with letters of support.
We commission an essay/written piece to accompany the exhibition.
We have the exhibition professionally documented.
Click here to read the full Call for Submissions

, which includes instructions on the application process, details on eligibility, examples of past rOGUE exhibitions, and a floor plan of the gallery.
Exhibition proposals will be reviewed by the rOGUE Programming Committee in November 2023. Please be advised that incomplete applications will not be considered.
Any questions regarding submissions that are not addressed in the rOGUE Call for Submissions webpage (linked above) should be directed to our staff at easternedgegallery@gmail.com.