Surface Tension (or What Holds an 'Us' Together): Joshua Vettivelu
Research/ Residency in EE Studios: March 15 – April 19
Exhibition in Main Gallery: April 26 – May 24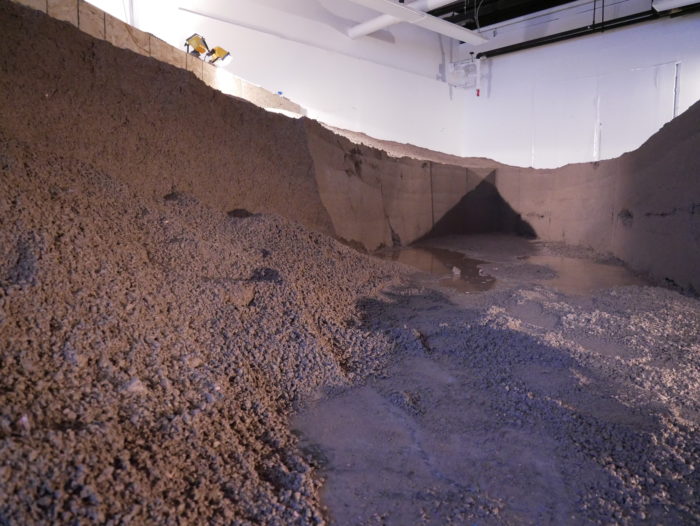 Joshua Vettivelu's Surface Tension (or What Holds an 'Us' Together) is the culmination of a 5 week research and creation residency facilitated through Eastern Edge Gallery and guest-curator Kailey Bryan. Surface Tension poetically explores how myths of resource scarcity have been used to enforce national borders as the limit of empathy. This residency and exhibition is the inaugural launch of the Eastern Edge Residency Studios.
—
In 1986 one hundred and fifty-two Tamil refugees were discovered adrift in lifeboats off St. Shott's on the Avalon Peninsula and rescued by local fisherman Gus Dalton. Fleeing the beginnings of Sri Lanka's bloody genocide of the Tamil people. They were issued Minister's Permits and welcomed to relocate and seek employment while their refugee claims were processed.
In 2009 and 2010 respectively, cargo ships the MV Ocean Lady and MV Sun Sea were intercepted off the coast of British Columbia and their four hundred and ninety-two Tamil refugees were placed in detention, some for over a year. The federal government responded to their landing with aggressive legislation – some argued unconstitutional – that gave them increased power to detain migrants indefinitely and deny them a wide variety of rights. The landing of the MV Sunsea had a lasting impact on Canadian migration policy and how Canadian's conceived of themselves.
The marked difference in public reception and federal policy bookended by these two refugee landings is the subject of Joshua Vettivelu's research-based residency. Vettivelu's research examines how national narratives around Tamils shifted into public anxieties about alleged terrorists and non-citizens accessing public resources.
In Eastern Edge's Residency Space, Vettivelu's large-scale sculpture uses the physics of surface tension (how sand holds itself together), to create a metaphor of how citizenship (or the creation of an "us") becomes foundational to who we are able to extend humanity to.
In Eastern Edge's Main Space Gallery, Vettivelu will exhibit a large scale video projection, ruminating on how the horizon becomes a site of longing, imagined pleasure and miscommunication.
---
Joshua Vettivelu is an artist, programmer, and educator working within sculpture, video, installation and performance. Their works explore how larger frameworks of power manifest within intimate relationships. Recently their practice has been looking at how desire and language build the world. Currently, Vettivelu is an instructor in the faculty of Art and Faculty of Continuing Education at OCADU and is the previous Director of Programming of Whippersnapper Gallery.
---