Will Gill / Stephen Kelly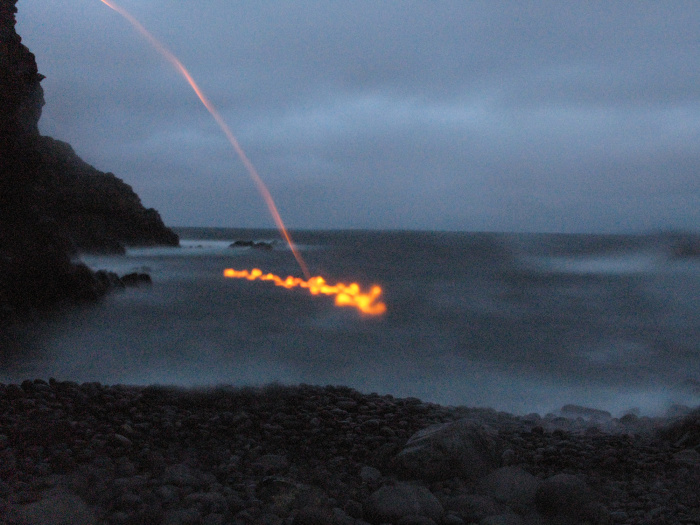 WILL GILL – CAPE SPEAR
STEPHEN KELLY – OPEN TUNING
SEPT. 5 – OCT. 17
Artist Talks + Opening Reception: September 5th, 3-6pm
Eastern Edge is pleased to present two exhibitions that collectively explore the enduring muse of the sea, reaching new and mysterious depths through sound and video.
Local artist Will Gill presents Cape Spear, a hauntingly beautiful new video work, in which the artist poetically releases translucent fiberglass orbs into the Atlantic Ocean, and watches their slow demise from the shoreline.
Read the exhibition essay by Craig Francis Power.
Stephen Kelly presents Open Tuning (Wave Up), a kinetic sound installation that translocates a remote ocean environment – in real time – to the gallery space. Open Tuning uses speakers connected via the Internet to Fisheries and Oceans Canada's wave data buoys in order to translate data into motion and sound. Ocean waves become sound waves.
Read the exhibition essay by Tim Dallett.
About the artists:
Will Gill lives and works as an artist in St John's, Newfoundland. He was born in Ottawa, Ontario, received a BFA from Mount Allison University (New Brunswick) in 1991, and currently has a studio practice making sculpture, paintings, photographs and video work. He was named to the national longlist for the Sobey Art Award in the 2004 and 2006 competitions. His work is held in many public and private collections and he is represented by Peak Gallery in Toronto and Christina Parker Gallery in St John's.
Will would like to thank Anita Singh, Sarah Stoker, Michelle Bush, Eastern Edge Gallery, Kevin Hehir, Chris Driedzic, Angela Antle, John Haney, Amanda Jernigan, John Evans, Luben Boykov, Greg Bennett, Erika Stevens Moore, Steve Topping, Kym Greeley, John McDonald, Craig Francis Power, Ginok Song and Bruce Lee.
Stephen Kelly works with sound, sculpture, site-specific audio installation, electronics, computer-controlled art works, and micro-radio. Interested in intersections between audio art and music, Stephen creates kinetic, viewer responsive audio exhibitions and has built several unique musical instruments. His work has been exhibited nationally and internationally. As a musician, he approaches audio recording as a creative process and has recorded, produced, and released numerous albums. His most recent musical project, in collaboration with Eleanor King, is The Just Barelys. Stephen has a BFA from the Nova Scotia College of Art & Design and has studied computer science at Dalhousie University.
Stephen would like to thank Nova Scotia Tourism, Culture, and Heritage.