David Tuck: friends and ashes
Opening reception: Saturday, March 12, 7-9pm
Remarks by friends and family at 7:30pm
Clown Performance titled "Sacred Mixture" by Sara Tilley as Weiner Shaman with Bernardine Stapleton and Vanessa Cardoso Whelan to follow.
All welcome
Newfoundland artist David Tuck, 1953­-2015, died well before we were ready to say goodbye. As a tribute to David, his work and his unique view of life, artist friends from across the Atlantic region have been invited to create new artworks, in a variety of media, each one to incorporate some of David's ashes. David always said that after he died he would like to be painted into a Masterpiece. His friends thought this would be a great salute to David and a way to say: "a part of you is still here with us." Love you David, from all your friends.
Jamie Baxter
Karen Bonia
David Brewer
Jay Butler
Elizabeth Dillon
Cliff Eyland
Teena Marie Fancey
Joe Fowler
Morgan Hanam
Lorie Jesperson
Mary MacDonald
Peter Kirby
Robert MacNeil
Catherine Moir
Noreen Mooney
Onni Nordman
Zoë Onysko
Jonathan Robinson
Tracey Robinson
T. Schatz
Bernard Siller
Pat Sollows
Craig Squires
Sara Tilley (and acolytes)
Sharon Trueman
David Tuck
Charmaine Wheatley
April White
Ulrike Zuschlag
(above image) David Tuck, Fingers Turning into Birds, acrylic on unstretched canvas, 2012/13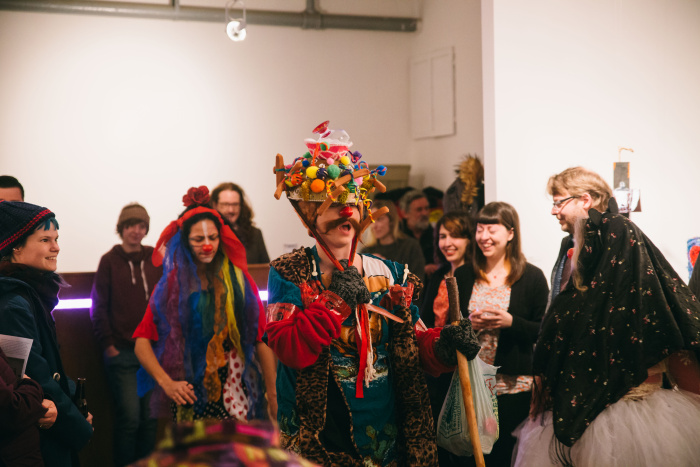 Photography by Noah Bender.