Retroflex Cabaret!
Retroflex Cabaret: A night of drag & performance art
Eastern Edge Gallery
Saturday, October 5th, 8-10pm
FREE!
Retroflex Cabaret is a night of drag and performance art. It will include six artists, four invited and two local, who vary from nightclub drag performers to gallery context performance artists, and somewhere in between.
Performances will start at 8pm. Some will be durational for you to experience all evening, and others will happen when the time is right. This is not your standard gallery event, nor is it your average drag show. This will be a night for the history books. Keep in mind that when you go down to eastern edge gallery you never know who, or what, you may encounter…. but do not fear, it's only a cabaret, old chum!
And I love a cabaret!
Featuring:
\Garbagefile
Dan Sundelin-Hooker
Humboldt Magnussen
Lady Kunterpunt
Marisa Hoicka
?????
Curated and Hosted by Irma Gerd // Jason Wells
This event is completely FREE thanks to the generous support of The Canada Council for the Arts, ArtsNL, The City of St John's, and Eastern Edge Gallery.
After the Cabaret make your way up to Velvet for #Swagger: A Ball for Them All brought to you by Sherry Hibiscus and Mia Moore starting at 1030
PLEASE NOTE that nudity and body modification will be a part of this event.
——–
RetroFlex a year long curatorial project developed by Kailey Bryan, Jason Penney, and Jason Wells. This comprehensive year long program has included a robust program of exhibitions, video screenings, artist talks, performance interventions, and commissioned texts. It focuses on themes pertinent to emergent queer perspectives and history contextualized alongside Eastern Edge's own legacy as a queer space. Eastern Edge Gallery is one of the longest running queer spaces in St John's. Since its foundation by queers and feminists in 1984, drag artists and performance artists have used the walls, floors, and rafters of Eastern Edge Gallery to push the boundaries of contemporary art.
——
RELATED EVENTS

Introduction to Performance Art Workshop with Marisa Hoicka
EE Studios
Oct 5th, 12:00pm-2:00pm
Ever wonder what makes up a performance art piece? Join us at Eastern Edge Gallery, for this hands-on workshop with Marisa Hoicka. Come learn the origins of performance art through historical and contemporary examples and try performing in a supportive group atmosphere. No material required.

Careless Whisper: An ASMR Workshop with a Clown
David Tuck Memorial Library
Oct 5th, 2:00pm-3:00pm
Close your eyes for a moment and imagine the following; The sound of waves crashing against the beach. The pop of a fresh jar being opened, followed by the quiet crunching of a pickle. The wrapper of a midnight Joe Louis slowly crumpled up and hidden beneath your pillow. What do all these sounds have in common? The sweet, relaxing effects of ASMR. Join Toronto's ASMR sexpert Lady Kunterpunt for a relaxing afternoon at David Tuck Memorial Library as we learn about creative noise-making, audio design, and what the hell "ASMR" even stands for.
---
ABOUT THE ARTISTS
Dan Sundelin (Performance Artist, Music Producer, DJ and Promoter)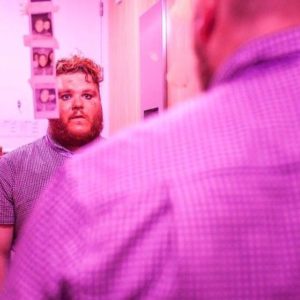 Dan's practice is heavily influenced by the relationship between the audience and the performer within the performance environment; especially revolving around intimacy created between audience and performer and experimenting with how far this intimacy can be pushed. Previous works have focused upon an aspect of the body and/or self which can be considered a commodity, how this is framed by society, and the consequences to which this can lead. The concepts Dan deals with, and the methods they employ, express the absurdity in society and question whether or not this is a workable model of existence.
\Garbagefile
Kai Bryan\garbagefile is a visual and performing artist who combines drag, clown, and aerial circus for a sometimes silly, sometimes sexy, often a little bit dark romp through pop punk hits from the last twenty years. Kailey has been a practicing visual and performing artist since 2006 and has been training in aerial circus arts since 2016. \garbagefile is a member of St. John's weirdest drag collective the Phlegm Fatales and is the recent "bronze winner" of Atlantic Drag Star 2019. They want to unpack the dense suitcase of gender, litter the room with odds and sods, throw the whole suitcase out the window then demolish the building.
Humboldt Magnussen
I am an artist/curator from rural Saskatchewan. I hold an MFA in Interdisciplinary Studies at OCAD University focusing on performance art and masculinity studies and a BFA from Concordia University from 2011 in Studio Arts. I have exhibited my work across Canada and internationally, notable exhibitions include "Every. Now.Then: Reframing Nationhood" at the Art Gallery of Ontario and "Show. 17" at the Idea Exchange. I am also a DJ and party producer and founder of Juicy Moon Productions in Toronto.
Marisa Hoicka
Whether through a performance, on canvas, or an installation, Marisa Hoicka creates narrative paintings that come to life. She integrates paintings, compelling tactile elements, performance art, interactive video and other electronic media.
Hoicka recently performed a new work in Flow Chart at Dancemakers in Toronto. She was artist in residence at Doris McCarthy's "Fool's Paradise." She participated in the Images Festival's "Now What?" residency and was artist in residence at the Sirius Arts Centre in Cork, Ireland.
Hoicka choreographed a solo as part of Singular Bodies at Toronto Dance Theatre. Her "This is Not a Test" was shown on all Air Canada flights as part of the Images Festival's "Stitches in Time." Her videos have also been shown in Berlin's Galerie Kurt Im Hirsch, San Francisco's MoMA, Oakville Galleries and across Canada.
Hoicka has received several Ontario Arts Council grants and a visual art grant from the Canada Council for the Arts. She has a Master of Digital Media from Ryerson University and a BFA in Studio Arts from Concordia University.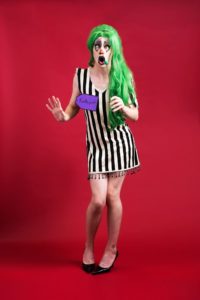 "Lady Kunterpunt is a spooky clown practitioner hailing from the sewers of Toronto, Ontario. She's half clown, half ghost, and 100% sugar free. A staple of Toronto's West End drag scene, Kunterpunt is known for her soft spoken ASMR videos, questionable fashion choices, and a love for the colour green. It's been rumoured that on a full moons night, if you say her name 3 times in a mirror that your Sims Save File will corrupt and all the macaroni from your kitchen will vanish. Kunterpunt, Kunterpunt, Kunterpunt!!! You can find evidence of her on Instagram, Twitter, and Facebook, under the name @ladykunterpunt. BEEP BEEP, St. John's!"