Art Crawl Pop-Ups
2023 Featured Artists // Workshops & Programs // Art Crawl
Venue Accessibility Information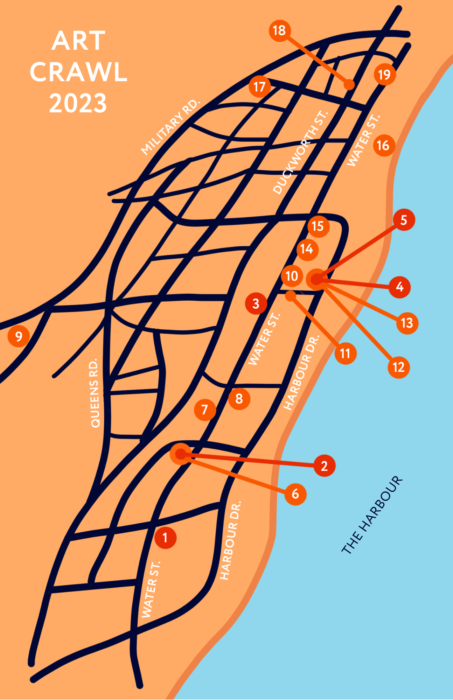 FEATURED ARTIST PROJECTS
1. EAST COAST QUILT CO: 343 Water St.

ENTRE LÍNEAS by ALE MONREAL // 2-8pm
Entre Líneas is an ongoing transdisciplinary project that uses traditional rigid heddle loom weaving, stop-motion animation, and digital editing techniques to create experimental video. Layering multiple realities, past and present onto an analog loom structure creates the foundation for the idea that memory is just fragments of moments woven together in our minds. The video is a visual representation of the sometimes-abstract compositions we form when trying to bring back memories to the surface of present time.
2.
ROCKET BAKERY: 294 Water St.

IN
THE WHITENESS by NIYA ABDULLAHI // 2-6pm
This single-channel video and projection is an exploration of identity through the eyes of a displaced Harari-Ethiopian woman, who now lives in Canada. She uses poetry and movement as a meditative method of reconnecting with her roots and in doing so, she establishes a magical bond with her ancestors. in the whiteness examines what it's like to experience hypervisibility and invisibility in congruence.
3.
WATER STREET (various locations)

WORLD WITHIN A WORLD by GEORGIA WEBBER // 2-8pm
World Within a World is a series of large-scale drawings on the sidewalks and sides of buildings in downtown St. John's. They depict geometrically patterned silhouettes of the people who move through these spaces, and the impressions they make on a location (footprints, shadows, body heat, etc). These patterns honour the inner complexity of the spiritual worlds that inhabit each of our bodies, inner environments which are not revealed unless the observer applies their attention and care, and is given permission to come in.
4.
EASTERN EDGE GALLERY: 72 Harbour Dr.

DREAM
ZONES HORMONES UNDERTONES FISH
BONES by DAZE JEFFERIES // 2-8pm
Dream zones hormones undertones fish bones is an audiovisual installation exploring speculative intergenerational connections and dreams for the future between trans femmes on the internet, at the turn of the millennium, in Atlantic Canada.
5.
EASTERN EDGE PARKING LOT: 72 Harbour Dr.

THE PHONOAUTOMAT  by IDLEFIELD COLLECTIVE AND DARKNL // 2-7pm
The Phonoautomat is a solar-powered instant recording booth. Participants can record up to five minutes of audio and it will instantly duplicated onto four cassette tapes that can be shared and collected. Like an instant photo booth, the spirit is spontaneous, collaborative and open ended. Built into a converted 1970s camper trailer, the Phonoautomat is capable of recording pretty much anything, from spoken word to an entire band utilizing the backline provided.
This year, DarkNL will be joining the Idlefield Collective as part of their Phonoautomat presentation. Before recording their song, the band will pose for a cover photo. This will be made by DarkNL Community Darkroom, with a variation on the traditional analog photobooth that uses a specially-designed instant pinhole camera to produce four nearly (but not quite!) identical images. The photos will be developed while the band is recording their song, and will be available by the time the mixing is complete.
---
POP-UP PROJECTS

6. ROCKET BAKERY, 294 Water St.:
ALL OUR FRIENDS' RUGS with QUEER CRAFT CLUB // 2-6pm 
All Our Friends' Rugs is a pop-up exhibition of hand hooked rugs by emerging artists based in St. John's, NL. The exhibition grew out of the desire we all share to celebrate our friends and the amazing things that they make. Featuring rugs by: Christian Dauble, Nicole Haldoupis, Ashley Hemmings, Parc Bumstead, Elijah Martel, Kevin Melanson, and Kiersten
Fage.
RUG HOOKING with BECK MacLEOD & QUEER CRAFT CLUB // 4-6pm
Join us for a free afternoon of rug hooking at Rocket! Don't have supplies? Never rug hooked before? No worries, everything will be provided!
7. PEDESTRIAN MALL, various locations:
THE BIG GAY BOAT with FISHING FOR SUCCESS // 2-8pm 
All the way from Petty Harbour 'The Big Gay Boat' aka the Paul & John Pride Dory! The dory is sponsored by Fishing for Success, a nonprofit that works to transmit the heritage of small-scale fishing. It's a visual representation of our mission: to make space for everyone in the boat! Join us in the boat to become a part of the story & take a selfie with friends!

LIVE SCREENPRINTING with ST. MICHAEL'S PRINTSHOP // 2-4pm
Find St. Michael's Printshop screen-printing some goodies on the Pedestrian Mall! BYO light coloured t-shirts or scrap fabric to grab a wearable print!
COMMUNITY WEAVING PROJECT with ANNA TEMPLETON CENTRE // 2-8pm
The Anna Templeton Centre is bringing its community weaving project to the street! Watch a demonstration on a floor model loom, learn about the history of weaving, and give it a try! The yardage has been created using upcycled scraps and donated ends and will be used for a public art project in the fall.
TRAVELLING MINI-MURAL with QUADRANGLE NL // 2-4pm
Make your mark! Friendly folks from The Quad will be tabling at Art Crawl with a canvas mini-mural in tow. We'll have art supplies available and prompts for you to respond to. The finished collaborative piece will head home to be displayed at The Quad's brand-new in-person space at 330 Elizabeth Ave!
POCKET CREATIVITY & FINGERPRINT MONSTERS with ASSOC. FOR THE ARTS MOUNT PEARL // 2-8pm
Play with your creativity! Make teeny monsters from your fingerprints and/or use the prompts in our Pocket Creativity kits to bring your ideas to life.
ARTISTIC FRAUD // time TBD

MOVEMENT MAP, UNTELLABLE MOVEMENT // 2-8pm
Using colourful shapes and words, this interactive chalk pastel movement map is located in front of Atlantic Place, 215 Water Street, at the Downtown Pedestrian Mall. It is designed to invite and inspire movement of all kinds, for people of all ages and modes of mobility. Showing the way, but not necessarily the how, the map can be "navigated" in a number of ways, and lets people discover their own interpretation of what they see. This is a project that encourages freedom of expression, and we're excited to see people use the map regardless of their familiarity with dance. There's room for a few people to be on the map at the same time, and the map can be accessed from either end, or from the middle.
TENDER QUEER ANECDOTES with NL QUEER RESEARCH INITIATIVE // 2-6pm
NLQRI was established to facilitate the preservation and commemoration of the 2SLGBTQ+ histories of Newfoundland and Labrador. Our mandate is to: empower our community to recover and share our history while fostering intergenerational solidarity, and. maintain a collection of 2SLGBTQ+ historical materials and research for the purposes of academic scholarship, policymaking, and for use by the broader community. Come draw or write down a moment from your own personal queer history and add it to their communal board of collected queer history!
8. 235 WATER STREET:
WATER by JOHN MacCALLUM // 2-8pm
This thought-provoking installation examines the ongoing impact & legacy of the Muskrat Falls project.

9. THE ROOMS, 9 Bonaventure Ave:
MORGAN MOAKLER JESSIMAN – ARTIST SPOTLIGHT // 2-4pm // Lvl 3 Atrium
Morgan Moakler Jessiman (she/they) is a multi- disciplinary artist originally from Ktaqmkuk. Morgan is also known as Nora Fence, a burlesque performer with a funny flair. Join us at The Rooms for an extra-special performance!

10. JOHNNY RUTH, 183 Water St:
NOTICE ME by HOT 4 THE MOMENT // 2-8pm
This installation, by artist duo HOT 4 THE MOMENT (Georgia Dawkin & Drew Pardy), playfully interrogates stereotypical gender roles in labour, looking at what we value vs. what goes unrecognized and unpaid.

11. LAWNYA VAWNYA, 4 Clift's-Baird's Cove:
EXPERIMENTAL FILM SCREENING with NICKEL FILM FESTIVAL // 2pm-4pm
Come watch an extra special loop screening of 1-minute experimental shorts made during the Nickel Independent Film Festival's Experimental Film Challenge! All of the short films featured in this challenge were created within the dates of HOLD FAST!
THE LOSING ART OF PLATING: DRAG AESTHETICS, FOOD SECURITY & HARD REDUCTION with MIKKIKI // 5pm-7pm
Mikiki will lead participants through an exploration of the concepts of aesthetics, the politics of gender representation, food security and harm reduction as told through the lens of workshopping extravagantly plated junk food.
12. EASTERN EDGE, 72 Harbour Drive:
MINIATURE CRANKIE THEATRE MAKING with MONICA ILA // 5-7pm // Eastern Edge Studio
Learn how to turn your drawings into a mini crankie theatre with Monica Ila! Monica (she/her) is a multi-disciplinary artist, cartographer and prairie mermaid from Calgary, Alberta. Playfulness is at the heart of everything she makes. She'll show you everything you need to make this easy, whimsical keepsake!
ZINE-MAKING TABLE with SOCIAL JUSTICE CO-OP // 4-8pm // Eastern Edge Studio
Join volunteers from the Social Justice Co-op in making zines! We will have materials for you to make a small zine (but feel free to bring your own as well!) that you can take home with you. Get to know the Co-op while creating something fun.
SMASH THE PATRIARCHY! with St. John's YWCA // 2-8pm // Eastern Edge Parking Lot
Interested in smashing the patriarchy? Come take a swing at piñatas co-created by YWCA St. John's and Eastern Edge! These piñatas symbolize systemic and social issues including sexism, racism, colonization, homophobia, ableism, transphobia, and more. Join us, as we envision ways to advance gender equity!
CHALLENGES TURN INTO PASSION with NIKITA SACHDEVA // 4-6pm // Eastern Edge Parking Lot
Discover the remarkable journey of artist Nikita Sachdeva. Nikita embodies the spirit of resilience, transforming challenges into a boundless wellspring of inspiration. With an artistic journey dating back to the age of three, Nikita's undying passion, unwavering dedication, and selfless surrender to creativity come alive through her pencil sketches, watercolors, and oil paintings. A graduate of Punjab University's College of Art, India, Nikita's exceptional talent secured her the top position with a scholarship. Her artistic prowess has shone through multiple exhibitions across India, leaving an indelible mark on the art scene. Notably, her work has also garnered recognition from the Art Association of Newfoundland. Join us to witness the vibrant and evocative expressions of Nikita Sachdeva's artistic transformation.
BIG PAINTING with SARAH O'ROURKE WHALEN // time TBA // Eastern Edge Parking Lot

13. ST. MICHAEL'S PRINTSHOP, 72 Harbour Drive:
MEMBERS' SHOW RECEPTION ST. MICHAEL'S PRINTSHOP // 6-8pm // 72 Harbour Dr. (upstairs)
Join us for light refreshments and check out what our local printmakers have been up to this year.

14. CRAFT COUNCIL NL, 155 Water Street:
MURAL UNVEILING with DAZE JEFFERIES & CRAFT COUNCIL NL // 2:30pm // 155 Water St. foyer
Join us for the unveiling of a stunning new mural by HOLD FAST Featured Artist Daze Jefferies, presented by the Craft Council Gallery
POP-UP ZINE DISPLAY by NIYA ABDULLAHI & CRAFT COUNCIL NL // 2-8pm // 155 Water St. stairwell
Drop in to see original pages from our first-ever festival zine, made during Featured Artist Niya Abdullahi's zine workshop!
OUR LOCAL WAULK with SUSAN FURNEAUX & STEPHANIE STOKER // 3-5pm
Our Local Waulk is based on the tradition of a Scottish Waulk: a time when friends came together to pull woven cloth while singing and enjoying the company of working together. Watch local artists Susan and Stephanie bring the waulk to life, with Gaelic music courtesy of Christian Dauble.
SPIN-IN with CHRISTIAN DAUBLE // 5-7pm // Craft Council,155 Water St. (upstairs)
Join local fibre artist Christian Dauble for an inviting and educational yarn spinning pop-up. If you know how to spin bring your wheel or spindle and connect with others. New to spinning? We'll have wheels and spindles available to learn on!
CRAFT COUNCIL of NL SHOP & PANTRY // 10am-4pm
Christine LeGrow of Spindrift Handknits will be set up on the sidewalk in front of the Craft Council of NL Store & Pantry. Come say hello and learn about her work!
15. TVAL, 151 Water St:
SUBMERGED by CAITLIN WHELAN // 2-8pm
A florescent coral reef along with reworked netting help to construct a seemly aquatic world. Constructed from garbage collected along the seashore, this immersive creation offers a reflection on consequences of human waste and its disruption of ecosystems.

16. HARBOURSIDE PARK, Queens Cove:
LIBRARY ON THE GO by NL PUBLIC LIBRARIES // 2-5pm
Not your Nan's bookmobile! Library on the Go is a mobile library van, bringing library staff, materials and pop-up programs out into the St. John's community. We will be bringing many art-related books for people to check out, as well as our 2023 TD Summer Reading Club StoryWalk!

17. FIRST LIGHT CPAC, 81 Cochrane St:
POP-UP GALLERY: FIRST LIGHT & COMMUNITY // 2-6pm
Come celebrate the creativity in our community with this pop-up art show! Featuring work across a wide array of media by artists, makers, and creatives. At 5:30, we'll have a special drumming and dance performance by Philip Muise. This event is supported by Music NL.

18. DOWNTOWN COMICS, 141 Duckworth St:
COMICS JAM with HEAVY SWEATER COMICS // 5-7pm
Calling all comics enthusiasts! Hang out with local artist Kevin Woolridge of Heavy Sweater Comics for this friendly, drop-in comics drawing session. All ages, no experience necessary!

19. CHRISTINA PARKER GALLERY, 50 Water St:
CURRENT EXHIBITION // 2-5pm
We are a contemporary commercial art gallery in St. John's, representing significant provincial, national and international artists. Drop in to see exciting recent work in painting, photography and printmaking. Everyone is welcome!
ARTISAN LOFT OPEN HOUSE, 166 Water St:
LOCALLY MADE CRAFTS AND MERCHANDISE, 2-8PM
The Artisan Loft's objective is to make locally handcrafted, functional art accessible in our everyday lives so people can enjoy the beauty and culture of Newfoundland and Labrador. We provide space for artisans to grow and develop their craft; from pop-up shop, to studios and retail space. Stop by see artisans working in person in the space, including: Newfoundland Playing Cards, RIZMOS Ceramics, and Old Trout Studio.
ANDERSON'S, 285 Water St:
COMMUNITY DIORAMAS, 2-8PM
Stop by Anderson's to see community dioramas made during HOLD FAST's 12 Hour Art Marathon on July 22nd, 2023. The community Diorama making was led by one of last year's HOLD FAST Featured Artists Shazia Ahmad.
2023 Featured Artists // Workshops & Programs // Art Crawl