Scenocosme / Elinor Whidden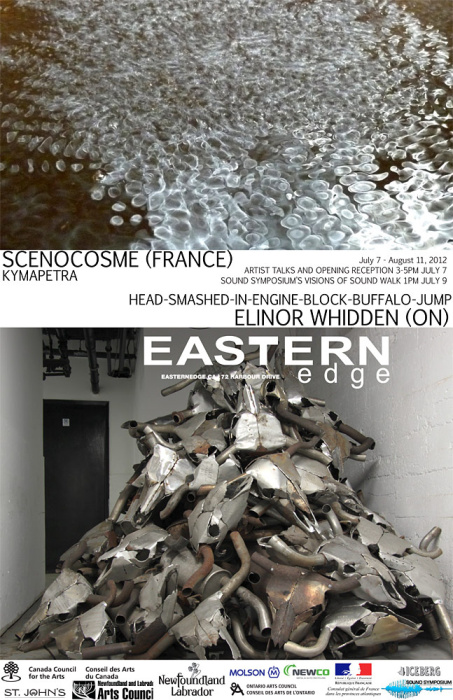 SCENOCOSME – KYMAPETRA
ELINOR WHIDDEN – HEAD-SMASHED-IN-ENGINE-BLOCK-BUFFALO-JUMP
JUL. 7 – AUG. 11
Developed by French art collective Scenocosme (Gregory Lasserre and Anais met den Ancxt), Kymapetra is an interactive installation composed of five stones and a large central basin containing water. When a hand is placed above a stone, a tone is produced that becomes visible as geometrical patterns on the surface of the water. Inspired by cultural beliefs concerning the power of certain stones to "sing," viewers are invited to manipulate these tones and patterns by aligning their energy in different ways.
Read the exhibition essay by Julie René de Cotret.
Elinor Whidden's current art practice investigates myths about the Western Frontier as a way to critique contemporary car culture. Head-Smashed-In-Engine-Block-Buffalo-Jump is an enormous and still-accumulating pile of buffalo skulls and bones formed from scavenged car parts. Working from late 19th century photographs that document giant mountains of buffalo bones waiting to be shipped by train for use as fertilizer and in bone chine, Whidden's buffalo skulls reference both the grandeur and decline of dreams related to the Western Frontier and Henry Ford's utopian vision of "a car in every driveway."
Read the exhibition essay by Julie René de Cotret.
Artist talk + Opening reception: July 7th at 3pm
Sound Symposium's Visions of Sound Walk: July 9th at 1pm
About the artists:
The duo Scenocosme, Grégory Lasserre et Anaïs met den Ancxt work and live together in France. They explore invisible relationships we share with the environment: rendering tangible, minute energy variations of living things by proposing staged interactions where spectators share in extraordinary sensorial experiences. They have exhibited their interactive installation artworks at ZKM Karlsruhe Centre for Art and Media (Germany), at the Museum Art Gallery of Nova Scotia (Canada), at Villa Romana of (Firenze), at Bòlit / Centre d'Art Contemporani (Girona) and in many international biennials and festivals : Art Center Nabi / INDAF (Seoul), Experimenta (Australia), BIACS 3 / Biennial International of Contemporary Art of Seville (Spain), NAMOC / National Art Museum of China / TransLife / Triennial of Media Art (Beijing), C.O.D.E (Canada), Futuresonic (UK), WRO (Pologne), FAD (Brasil), ISEA (Belfast & Istanbul), EXIT, VIA, (France).
Elinor Whidden is a multi-disciplinary artist whose art practice has become a quest to find a way to survive and adapt in a world increasingly threatened by contemporary car culture. Whidden received a BA in Canadian/Environmental Studies from Trent University, a BFA from the NSCAD and a MFA from SUNY at Buffalo. She has exhibited throughout North America, recently showing work in Ontario, Alberta and Detroit MI. Whidden has received numerous grants and awards from institutions including the Canada Council for the Arts, the Ontario Arts Council, and Nova Scotia Culture, Tourism and Heritage, as well as being featured as an emerging artist on CBC's Zed TV in 2004.
Artist thanks: Jessica and Eli Abraham, Helen and John Whidden, Boston Auto Wrecker,
Reuven – the original buffalo and Newco Metal & Auto Recycling Ltd.