Emily Neufeld: EE Studios Artist in Residence
Residency Dates: July 12 – August 28, 2021
Exhibition Dates: August 25 – October 3, 2021

Emily Neufeld, Before Demolition, 2017, Install Photograph
Emily Neufeld will be participating in a residency with Eastern Edge Gallery this summer. EE has teamed Emily up with local artist Drew Pardy to create work in abandoned homes across Newfoundland. Depending on the circumstances, Emily will either direct Drew from afar or they will work together in person to create sculptural interventions in the homes. These interventions will then be photographed and re-staged inside Eastern Edge Gallery as a part of a group exhibition alongside artists Christeen Francis and Andrew Testa. 
As she creates, documents, and finally re-stages her interventions, Emily will consider the land, the plants—both native and introduced—the soil (or lack thereof), the intertidal zones and watersheds, as well as the creatures that share space with the houses.
Abandoned houses are, for obvious reasons, haunted by a sense of the past. However, in collecting video and timelapse records of her interventions and projecting them onto other sculptural and photographic forms in the gallery, Emily weaves the present and future into the work. This process guides viewers past nostalgia into a more complex experience rendered upon our shared (if not identical) experience of the current of time and the way it inexorably evolves every place it flows through.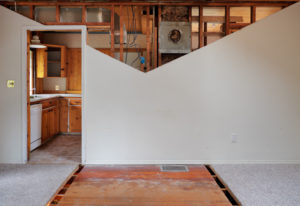 Emily Neufeld, Horseshoe Bay, 2016, C-Print
Artist Bio:
Emily was born and raised in farming country where Treaty 6 and 7 meet in what is now called Red Deer, Alberta. She now lives and works in the unceded territory of the Squamish and T'sleil Waututh peoples in North Vancouver. She is examining her own Mennonite and Scottish settler colonial histories by investigating her relationship to these Indigenous lands in which she now lives and works. Her definition of this place extends beyond the land itself to include plants, the soil microbiome and animal habitats (including the human animal). Her work explores how all of these aspects of place influence and are influenced by each other. This will be Emily's first time visiting Newfoundland. Recent solo exhibitions include Prairie Invasions: A Lullaby (2020, Richmond Art Gallery, BC), Before Demolition: Tides (2019, Eyelevel Gallery, NS), Motherlands (The Pole, Den Haag, ND) and Before Demolition (2017: Burrard Arts Foundation, BC). She received her BFA from ECUAD in 2013. Neufeld has created and participates in community sharing gardens, and sees land as fundamental to her research process.
---
Paige Gratland, Glenn Gear, & Daniel Barrow 
Date: TBA
Paige Gratland (BC), Daniel Barrow (MB), and Glenn Gear (NL) all met during the Intergenerational LGBT Residency at Gibraltar Point, Toronto Island last summer. There they spent two weeks working together, exchanging stories, ideas and images, and saw many commonalities within their bodies of work. They each employ narrative from a distinctly queer perspective and also each infuse their love of narrative into object-making. Specifically, they each make videos and objects that employ a decorative charge, revealing little by little an encoded queer content. The videos and the decorative or wearable objects (whether it be cowboy boots, traditional beading, or miniature t-shirts on mannequins) illustrate intimate scenes of contemplation, sexual freedom, phobias or shameful obsessions.
This residency is in anticipation of a future exhibition in our Main Gallery space.
"After working in community for two weeks this past summer, it seemed obvious that a group exhibition was emerging. We imagined presenting this show in each of our respective home provinces – so that we can each have the opportunity to act as a host for each other and, of course, for the work itself." 
ARTIST STATEMENTS
Paige Gratland
I am a west coast based Canadian artist and filmmaker. My practice moves playfully across mediums (video, printmaking, performance, wearable art and artist multiples) to create pop art through a queer, feminist aesthetic. My process is collaborative and starts from a foundation of friendship and/or fanship, seeking to reveal the complicated negotiations and surprising intimacy born when people work creatively together. With a background in film production (Ryerson University) and 3-D Design (Emily Carr University) I aim to reimagine the codes, symbols and iconography of the dominant visual culture with a spirit of queer reclamation strategies. Ann Dean former director of Art Metropole has described my work to "resonate strongly throughout diverse communities to help build bridges of understanding.
Glenn Gear
Glenn Gear is an interdisciplinary artist of Inuit and Irish ancestry from Nunatsiavut, Labrador. His primary focus is animation (stop-motion, paper collage, experimental) as well as mixed media installation. His work often explores alternative forms of storytelling that embrace personal and cultural connections between land, people, and animals through research-based creation — a layering of meaning derived from photo archives, drawings, collage, and craft techniques, seen through a queer lens and often infused with a subtle sense of humour.
Daniel Barrow
All of the work I create, including sculpture, installation and performance, centers itself on the practice of drawing. Drawing has, since childhood, been my primary mode of expression to pictorialize internal visions and grapple with the external world around myself. I typically use obsolete technologies to present pictorial narratives by merging the methods and cultural histories of cinema, comics, animation, and magic lantern shows. I am best known for creating and adapting comic book narratives to "manual" forms of animation by projecting, layering and manipulating drawings on overhead projectors.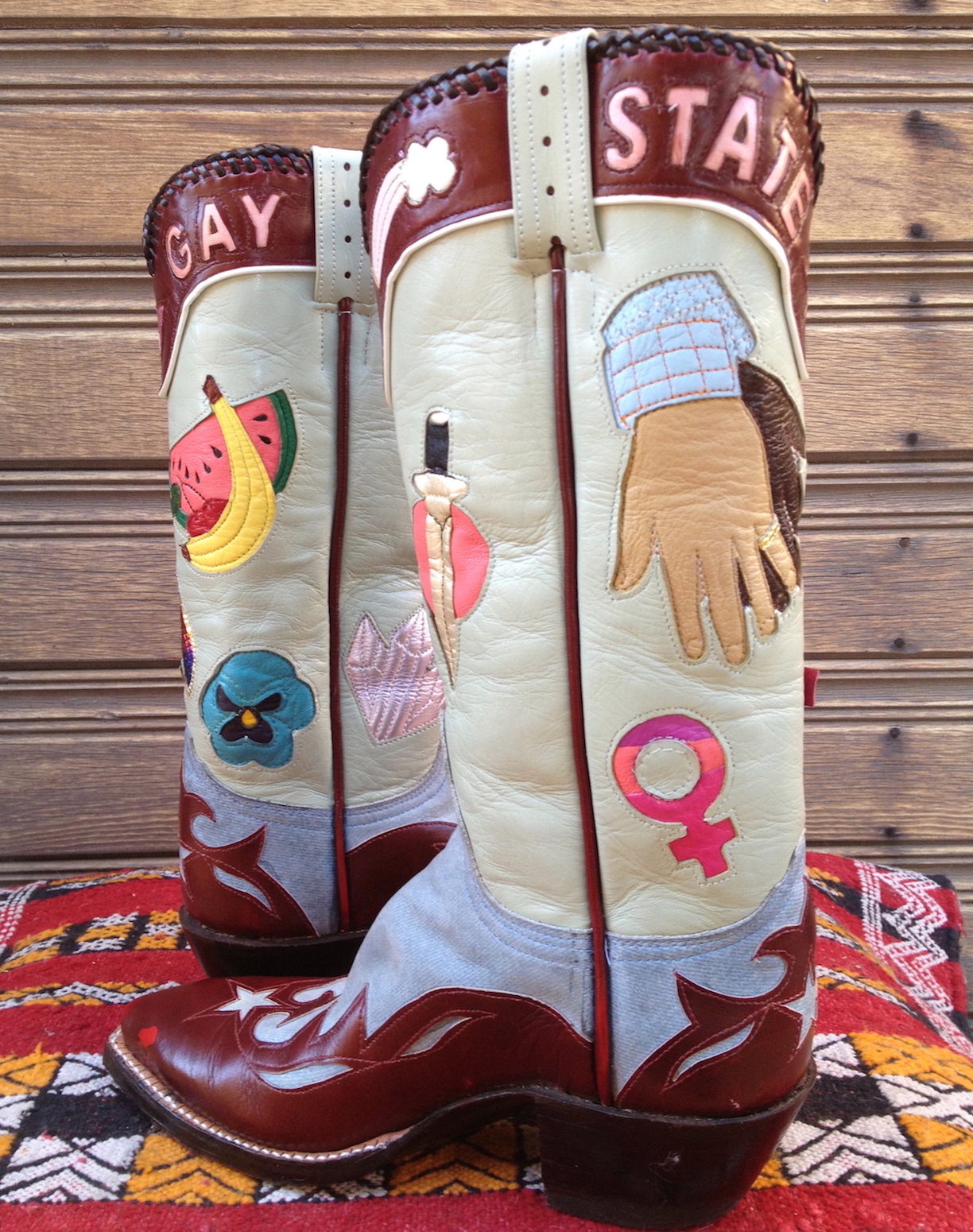 Gay State Boots, 2013, Leather Boot, by Paige Gratland 
TakKik, 2018, part of the exhibit, Tionnhehkwen; Visions of Seeds by Native Immigrant, Montreal, by Glenn Gear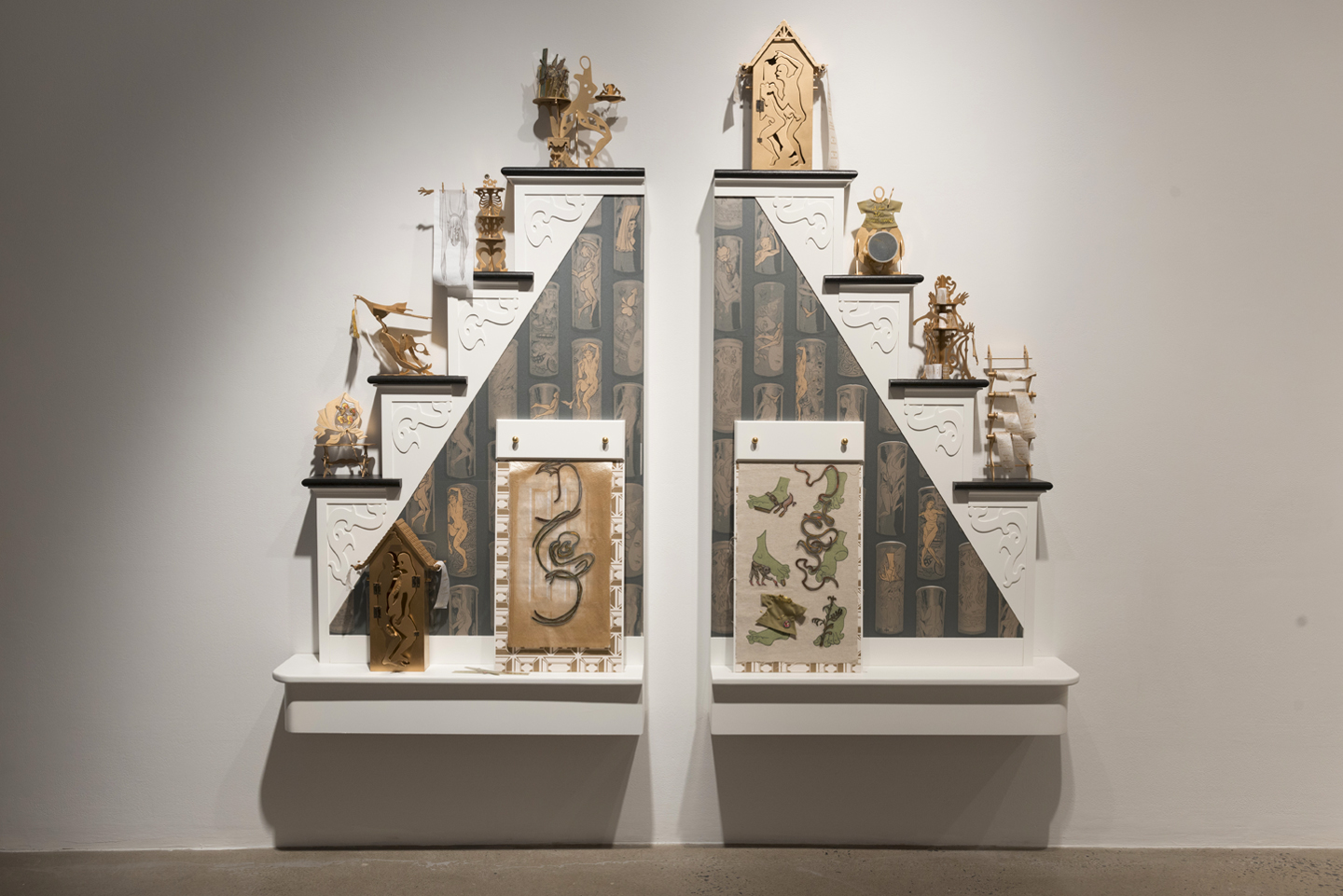 Pyramid 2, 2018, Mixed media sculptural wall piece, Materials: Wood, screen- printed paper, toilet paper, resin, fabric, plastic, by Daniel Barrow
---
All of this is made possible thanks to our generous core operating sponsors, including Canada Council for the Arts, ArtsNL, The City of St. John's, and The Cultural Economic Development Program.