Current Residencies
Renee Brazeau
September 1 – October 14, 2023
Renee Brazeau intends to work on a quilted mapping project exploring the relationship between place and the expression of one's queerness.  The exploration will begin by creating a series of large imaginary quilted maps. These maps could take the form of recognizable aerial maps and/or psychological maps. Brazeau will approach quilting in a painterly fashion by intuitively combining embroidery, screen-printing, sewing and applique techniques to create non-traditional quilts. This non-traditional approach to quilting rejects the idea of following a pattern, similarly to how queerness is about rejecting society's pre-determined pattern.
Renee would like to acknowledge the grant she has received from Canada Council. This grant will play a pivotal role in supporting Renee's residency at Eastern Edge.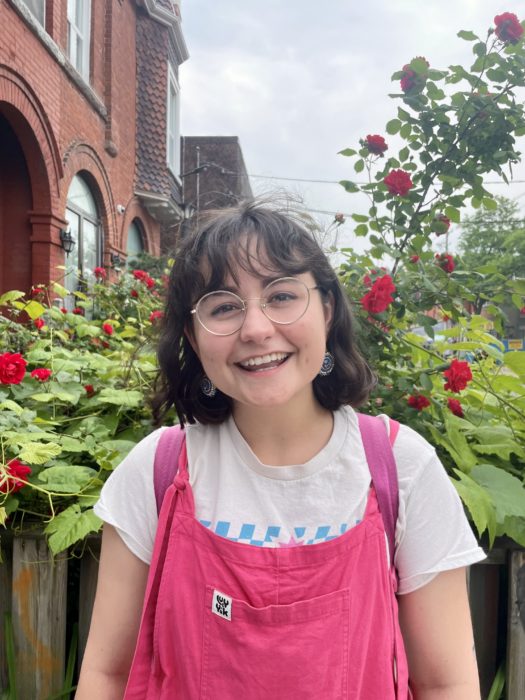 Renée Brazeau (she/they) is a queer, femme, white-settler, artist and educator who is currently based out of Kjipuktuk (Halifax).
With a formal background in drawing and painting, Renée applies a painterly approach to their developing textile practice, in which they are mostly self-taught. Their work explores themes of place, mapping, queer identity, chronic illness, daily mundane moments, quotidian joy, establishment of self, and belonging. Renée's work is made in an attempt to better understand and document where she is both physically and psychologically in a given moment.
They completed their Bachelor of Fine Arts (Honours) and Bachelor of Education both from Queen's University in Kingston, Ontario. Following their undergraduate studies, they pursued a Masters of Arts in Art Education from NSCAD University, where they developed a keen interest in socially engaged community art education.  Renée currently balances her time between her art practice and teaching within community and post-secondary contexts.
---
Upcoming Residencies
AnnaMaria Pinaka
October 27 – December 9, 2023
AnnaMaria Pinaka was born and raised in Thessaloniki and currently lives and works in Amsterdam. Her practice is on drawing, painting, video and performance; she holds a practice-led PhD, titled Porno-graphing: "dirtiness" and self-objectification in lens-based art, from Roehampton University (2017) and lectures in different art academies in the Netherlands.
During her time at Eastern Edge, AnnaMaria Pinaka will be researching punk and hard rock women-identified led scenes in Canada, while drawing, painting, singing and writing about mermaids, princesses and magical fairies. Her aim is to explore the (in)possibilities of a coexistence between the figure of a princess and that of a female punk/hard rock musician. By bringing together these apparently polarised, crystallised and universalised idea(l)s of womanhood, the "holy", the "untouched" and the "wild" young woman, Pinaka aspires to form affirmative negations of normative iterations of femininity. Carnival fairy dresses, early gaming 90s aesthetics, pink-coloured Barbie-inspired figures, will carve out space for girly-ness and femmeness to interfere with politics of visibility.
Megan Samms
February 2 – March 16, 2024
Nadine Baldow
March 29 – May 11, 2024
m'lk
May 24 – July 6, 2024
m'lk collective, made up of three siblings, Motheo, Lele and Kutlwano. Are interested in material culture and how it becomes a port of inquiry into stories and relations which would otherwise be illegible to them and perhaps others. Born in South Africa to a Xhosa mother and Mopedi father and raised in spaces which would be considered white or heavily influenced by the western world means they have been faced with multiple material worlds, sometimes simultaneously, most of the time in very close proximity. This has allowed for there to be a gap between what they have been and seen themselves as and what world they exist in/as. This gap has always been filled with enquiry, uncertainty and exploration. This has developed into a practice of observing, archiving and investigating material culture. In South Africa the fascination is how culture manages to persist in circumstances where it is told not to, they would like to bring this practice to Eastern Edge and get to understand how certain cultures have laid dormant, gone through transit and found itself in St John's, Newfoundland. From objects, to rituals to ways of communicating. In this archiving they would like to use their technical background of architecture, ceramics, film, landscape architecture, lighting design and photography to find ways of making legible what they feel is to be documented. This requires collective practice and building of relationships which they are deeply interested in.
Sylvan Hamburger
July 19 – August 31, 2024
Cranky signifies an erratic vessel, liable to capsize. This nautical meaning serves as a central metaphor for this proposal: I will relief print the hull of a discarded punt, alongside other sea jettison, and turn the printed impressions into textile kites to be flown along the coast. Cranky presupposes the strange and irregular flight of these soft vessels. It also alludes to the volatile consequences of globalization, consumerism, and climate change on coastal communities.
Joshua Schwebel
September 13 – October 26, 2024
Georgia Dawkin
November 8 – December 14, 2024
---
Past Residencies