Current Residency
Jillian McDonald, Tunnel
October 28th – December 10th, 2022
Tunnel is a multi-channel video work with accompanying drawings that will be filmed in Eastern Newfoundland, on New York's Governors Island, in a Brooklyn backyard, and in the Southwestern United States. The project is informed by living and sheltering in a virus epicentre and seeing its profound effects.
Jillian McDonald is a Canadian artist who lives in New York. Recent solo exhibitions include AxeNéo7 in Gatineau, and group shows include FiveMyles and Undercurrent in Brooklyn. Critical discussion of her work appears in The Transatlantic Zombie by Sarah Lauro and Deconstructing Brad Pitt, edited by Christopher Schaberg. Awards include grants from The New York Foundation for the Arts, The Canada Council for the Arts, and residencies at Glenfiddich in Scotland and The Arctic Circle in Svalbard.
---
Upcoming Residencies
Nasim Makaremi & Michael Lucenkiw (Mainframe)
January 13 – February 25, 2023 
Nasim Makaremi is interested in making a VR space of ancient monuments related to her hometown, culture, and background; and walking in them while she is in Newfoundland. This is the overlap between the lands and challenges the meaning of the land and the home country. Michael Lucenkiw would like to explore the capacity of augmented reality as an interactive, location specific storytelling format. Taking advantage of the ability for augmented reality to access a phone's GPS and spatial orientation, he wants to experiment with mobile exhibits around the city. He also wants to explore how environmental data, GIS mapping and data visualization intersects with this technology.
Sylvan Hamburger
March 10 – April 22, 2023
Cranky signifies an erratic vessel, liable to capsize. This nautical meaning serves as a central metaphor for this proposal: I will relief print the hull of a discarded punt, alongside other sea jettison, and turn the printed impressions into textile kites to be flown along the coast. Cranky presupposes the strange and irregular flight of these soft vessels. It also alludes to the volatile consequences of globalization, consumerism, and climate change on coastal communities.
Jane Walker & Ale Monreal (Mainframe)
March 10 – April 22, 2023
Concepts that Walker and Monreal want to explore further include using advanced textile technology to make one-of-a-kind cloth (not multiples), continuing their experiments with embedding drawing into cloth, preparing digital cloth drafts of their analogue photographs (combining slow tech), integrating their various art media (textiles, photography, drawing/painting), and from a technical standpoint, understanding how to use a digital loom. Ale Monreal wants to develop and explore new artistic techniques that they have recently used which mesh together looms, analog and digital media, and animation.
Susan Furneaux
May 5 – June 17, 2023
Intimacy with materials in process, usage and place is the foundation of Susan Furneaux's work.  The seasons, the ebbs and flows of nature are present in the materials. The practice is a ritual of connection and integration with her environment where the cycle of life and death are ever present. Using both traditional and unexpected natural fibers,  she will create finely crafted pieces that discuss the infinite offerings of textile materials from the boreal forest and peat bogs of the Avalon Peninsula, Newfoundland. This work is reflective of her settler ancestors' tradition of 'making do', skilled makers who resourcefully created beautiful work with what was close by.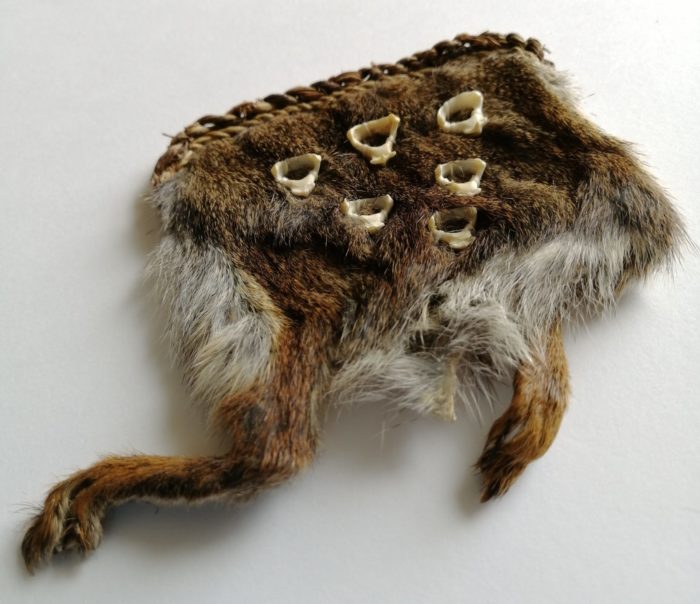 Brenda Reid & Beck G-Osborne (Mainframe)
May 5 – June 17, 2023
Beck G-Osborne wants to learn more about audio design and installation techniques so they can work on creating immersive environments for both home-listening and physical Installations.  Brenda Reid plans to create work that consists of three parts, a relief print of the area as it exists, a 2d digital animation illustrating the potential of that space, and sound clips recorded in St Johns.
Megan Arnold & Clayton Dyon
June 30 – August 1, 2023
Megan Arnold uses humour as a coping mechanism to deal with anxiety in the face of an impending apocalypse. Laughter brings people together to produce tender feelings, collective experiences, and meaning within perceived meaninglessness. Arnold and Dyon are interested in essential facets of humanity and how they manifest in the 21st century: mortality, liveness, connection, and failure.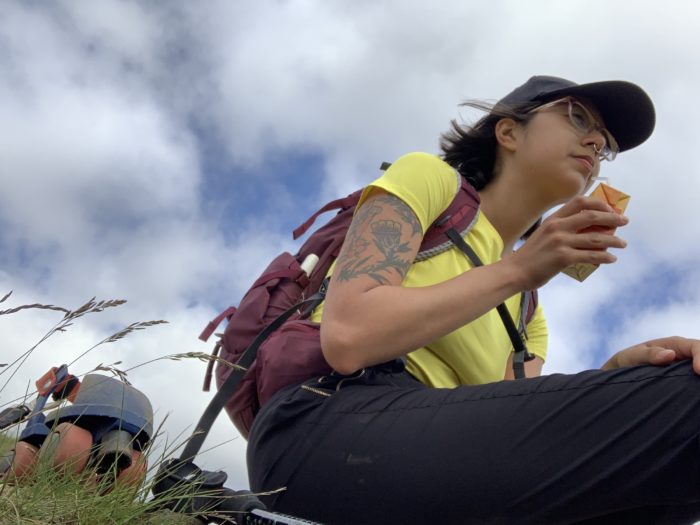 Renee Brazeau
September 1 – October 13, 2023
Renee Brazeau intends to work on a quilted mapping project exploring the relationship between place and the expression of one's queerness.  The exploration will begin by creating a series of large imaginary quilted maps. These maps could take the form of recognizable aerial maps and/or psychological maps. Brazeau will approach quilting in a painterly fashion by intuitively combining embroidery, screen-printing, sewing and applique techniques to create non-traditional quilts. This non-traditional approach to quilting rejects the idea of following a pattern, similarly to how queerness is about rejecting society's pre-determined pattern.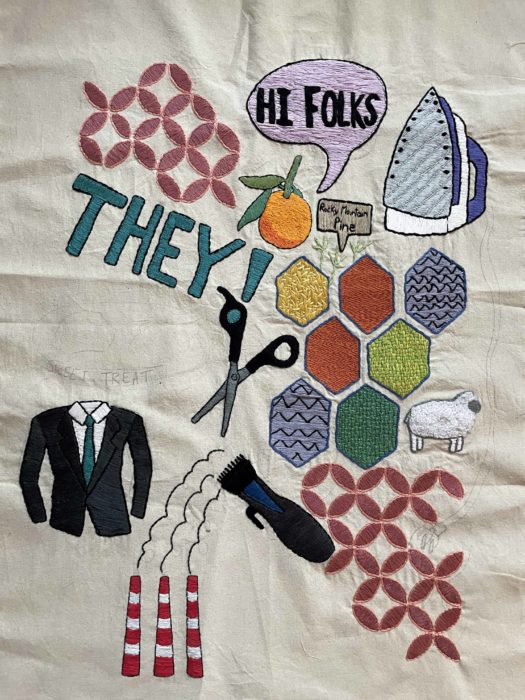 ---
Past Residencies